In the last few years, the use of social media in the healthcare industry has skyrocketed. From tweets to Facebook posts, medical practitioners are turning to social networks to educate patients, increase engagement, promote awareness and share correct health messaging. And they are doing so while remaining fully HIPAA-compliant.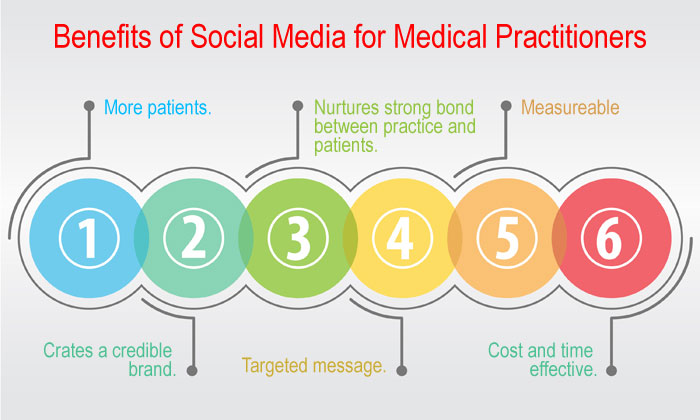 According to a report by the Pew Institute, the growing popularity of social media in the healthcare industry can be attributed to the following factors:
The widespread use of social media tools
The increasing need for patients to connect with each other
In addition to other online resources, social media significantly impacts the way patients share and search for healthcare content. While most patients still prefer face-to-face consultation with their healthcare providers, social media networks are a valuable supplementary tool in their journey to wellness.
No doubt social media is one of the most powerful disruptions to digital marketing in decades, but how is it impacting the healthcare industry? In a generation that is more likely to search for medical queries online than consult a doctor, what role does social media play?
Let us dive deep into some relevant statistics that explain how social media impacts the healthcare industry:
More than 40 percent of customers agree that the information found on social media impacts the way they handle their healthcare. (Source: Mediabistro)
As a healthcare practitioner, it is your responsibility to create useful healthcare content for your target audience. Though social media tools mostly provide accurate information, there is a lot of half-truth being shared. This can be your opportunity to become a trusted source of information.
Almost 90 percent of millennials trust healthcare information shared by others on social media. (Source: Search Engine Watch)
Millennials are dominating the social media landscape. This presents an excellent opportunity to connect with this huge demographic and make them trust your medical expertise. Take into account that nearly 80 percent of millennials are keen to share their medical information online. As a medical practitioner, it is essential for you to share valuable information that helps your audience.
Nearly 41 percent of users said social media influenced their choice of a particular doctor, facility or medical practice. (Source: Demi & Cooper Advertising and DC Interactive Group)
People use social networks to discuss almost everything, including their experiences with doctors and medical practices. Social media is regarded as a vehicle for people to have their voice heard – whether they appreciate you with positive comments or hurt your reputation by writing negative feedback about your practice.
About 27 percent of patients post health-related statuses. (Source: MDDI)
This statistic shows patients are willing to comment on their experiences with medical practices and professionals. It is important to interact with your patients on social media to ensure they are getting the greatest care possible.
Take the first step to protect your online reputation and request your Online Reputation Assessment.
Almost 33 percent of U.S. customers use social media to search for health-related information. (Source: Search Engine Watch)
If nearly one-third of the U.S. population is using social media to research and share symptoms, offering and reading the opinions of doctors, looking up treatment options and finalizing health plans, you must take steps to strengthen your online presence. It is important to become part of the conversation so that you can engage current and potential patients.
Nearly 60 percent of doctors admit social media improves the quality of care provided to patients. (Source: Demi & Cooper Advertising and DC Interactive Group)
This shows doctors have faith in the transparency and authenticity brought by social media in improving the quality of care provided to patients. Online medical communities and the ability to interact with patients in real time are the main catalysts in improving the medical landscape among social media.
YouTube traffic to hospital websites has increased 119 percent year-over-year. (Source: Google's Think Insights)
The video is an easily digestible form of content. Using videos, marketers can effectively get across their message and share a human element while showcasing the medical facility and staff. You must include video content on your practice website and share on social media for SEO and patient engagement purposes.
8: Nearly 49 percent of patients expect to hear from their doctor within a few hours of requesting an appointment or initiating a discussion through social media. (Source: Healthcare Finance)
Engaging with your patients through social media is no longer considered a privilege by your patients. In the Internet-savvy marketplace, an active online presence is mandatory if you want to be successful. This is because if someone asks you a question and doesn't get an answer in a decent amount of time, they may lose interest in your service and may choose your competitor over you.
Almost 40 percent of people think information found on social media impacts the way they cope with a chronic illness, view their healthcare regimen and choose a doctor. (Source: Healthcare Finance)
It is almost impossible to search on a social media network and not find the opinions of other patients and medical professionals. Those ideas are continuously influencing our healthcare decisions. From a pair of contact lenses to the latest healthcare gadgets, social media networks have a significant impact on how we consume products and services.
Almost 22 percent of parents use Facebook and 20 percent use YouTube to search for healthcare-related topics.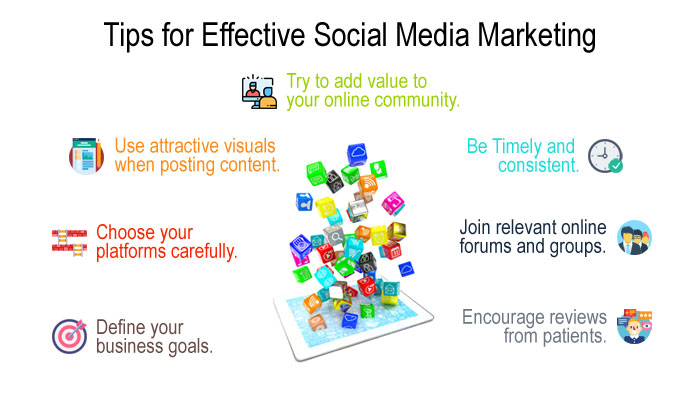 Parents are always worried about the well-being of their children. With social media sites gaining popularity, parents source information for their children's health online more than ever before.
Social media has evolved from being just an add-on to your medical practice to being a powerful and influential channel of communicating with patients. It has limitless possibilities, from attracting new patients to ensuring patient satisfaction through meaningful engagement. In an age where information is consumed at a rapid rate and where patients are looking for answers more quickly, healthcare organizations have a tremendous responsibility to rise to the challenge of evolving with changing patient behavior or risk falling behind.