Your online reputation = Your patient volume.
According to a report by Vendasta, almost 45 percent of people stumble on search results that make them decide not to do business with a brand. Can you afford to lose almost half of your potential patients? This is exactly how you should think when it comes to your online reputation. Your online reputation is fragile.
Building a stellar online reputation is one of the most critical parts of building a successful practice. Having a positive brand image makes patient acquisition and retention easier, allows you to charge a premium for your services and increases your bottom line.
Despite that, most practice owners and healthcare marketers do not understand the importance of building a powerful reputation – and the impact it has on your practice. Building a strong reputation and staying true to it has the potential to separate leaders from also-rans.
The way you establish and portray your online reputation paints an image in the minds of potential patients. Your potential patients will almost envision your personality and skill set based on the strength of your online reputation. Moreover, a significant portion of their perception of your practice is based on online reviews and ratings. Potential patients tend to trust reviews and experiences of your current patients. Online reviews have the power to influence a potential patient's decision to select a doctor or practice and help form a foundation of credibility and trust.
Successful practices create extraordinary patient experiences that are fundamentally rooted in their mission and values. Even if such practices lose their way, they will eventually get back on track. Rarely do established practices lose their reputation in one fell swoop. Instead, online reputation erosion happens gradually. Staying true to your brand image is an act of daily maintenance, and the small decisions you make every day can make or break your reputation. It is hard to track when you are building your online reputation the right way, but here are five signs that you are getting it wrong.
#1: Ignoring negative reviews, or worse, paying patients for posting positive reviews
Online reviews are one of the strongest pillars of a strong online reputation for doctors. However, when your patients take the time to post feedback about your practice, whether positive or negative, be sure to respond. Never ignore online reviews. If you make no effort to interact with your patients, they will lose trust in your practice, and your reputation will suffer.
There are many reasons why patients post scathing online reviews. Some of those may be trolls, and some may be published by your competitors. However, most of the negative comments are posted by real patients having legitimate reasons. While you may feel tempted to go head-to-head with an angry patient, always remember that thousands of existing and potential patients will see your response. No matter how justified your facts are, coming off as defensive will only damage your reputation. The best approach is to calm down before responding online. Listen carefully to the patient, apologize and explain what steps you are taking to resolve the issue.
Paying your patients to write positive reviews for your practice is not just unethical, it is also illegal. According to the FTC Endorsement Guidelines, if you are compensating a reviewer for posting encouraging reviews about your services, he or she must disclose it in the review. The compensation may include cash, gift coupons, exclusive discounts or free services in exchange for posting positive reviews. Since 2012, Yelp has started removing businesses that they catch buying reviews. The practice of buying reviews can give the most devastating blow to your online reputation.
#2. No online reputation management plan in place
As with most aspects of healthcare marketing, having a clear online reputation management strategy is critical. Your patients will continue to go online and tell the world how they feel about your practice. Not only this, your potential patients will continue to search online to read what your current patients are saying about your products and services. Neglecting your online image can be detrimental to your ability to generate new leads and increase revenue. Therefore, it is important to start by developing an online reputation management plan that will help you dig deeper into the online world to find any negative content regarding your practice. If you happen to find any negative content, you must implement strategies to address and resolve such issues. Your reputation management plan must include strategies that involve creating positive and relevant content that your target audience will enjoy. Over time, your practice will establish its positive image.
You cannot build a strong online reputation without short-term and long-term strategies that address key elements such as patient persona, demographics, reputation management strategies – all while allocating the resources to make those elements happen. Cutting through the clutter, building a following, communicating with your target audience and improving brand image are some of the common objectives of an effective online reputation management strategy.
Take the first step to protect your online reputation and request your Online Reputation Assessment.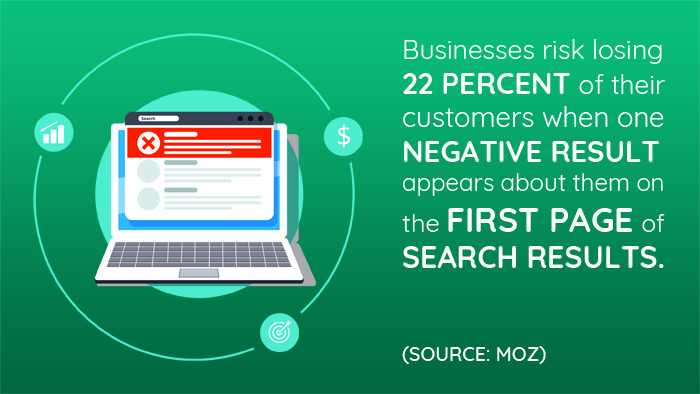 #3: Failing to engage on social networks
A surefire way to annoy your patients, while also losing the trust of brand loyalists, is by not engaging with your existing and potential patients on social media networks. Only creating social media profiles is not enough to establish a strong online presence and reputation. Being active and engaging with your patients is the secret to success. Your patients may be using social networks to post their feedback or share concerns. Not being active on popular channels can take a toll on your online reputation. You will not be able to accomplish your business goals with an inactive social media account. An inactive profile conveys that you do not care about your patients and followers. You must be active on social networks in order to attract followers and build strong relationships with your existing and potential patients. Even your existing patients will become disinterested in your brand if you do interact with them consistently.
#4: Choosing the wrong person or organization for handling your online reputation
The individual or agency tasked with the management of your online reputation can make or break your practice. If you are convinced that online engagements are capable of attracting leads, then you cannot risk placing your brand in the hands of someone who is not dedicated, well-versed and motivated enough to engage with patients in a way that is conducive to reconciliation if things go wrong. The person managing your online reputation is your de facto brand ambassador. Make sure you are putting your best foot forward.
#5: No social media policy
Your employees represent your practice. What they do online might have a huge impact on how your patients view your practice. Allowing your employees to be active on social networks without any guidelines can expose your practice to the risk of creating a disturbing online reputation. In worst-case scenarios, your practice may face legal repercussions if compliance issues are overlooked. A strong brand identity translates into loyal patients, higher sales and better employee engagement. A damaged brand identity could mean disaster for your practice.
While you are not imposing how your employees should conduct themselves online just because they work for you, having a social media policy will help you manage the kind of "publicity" your practice should attract. A social media policy will help make your employees understand the value of professionalism and will set legal responsibilities over their online behavior.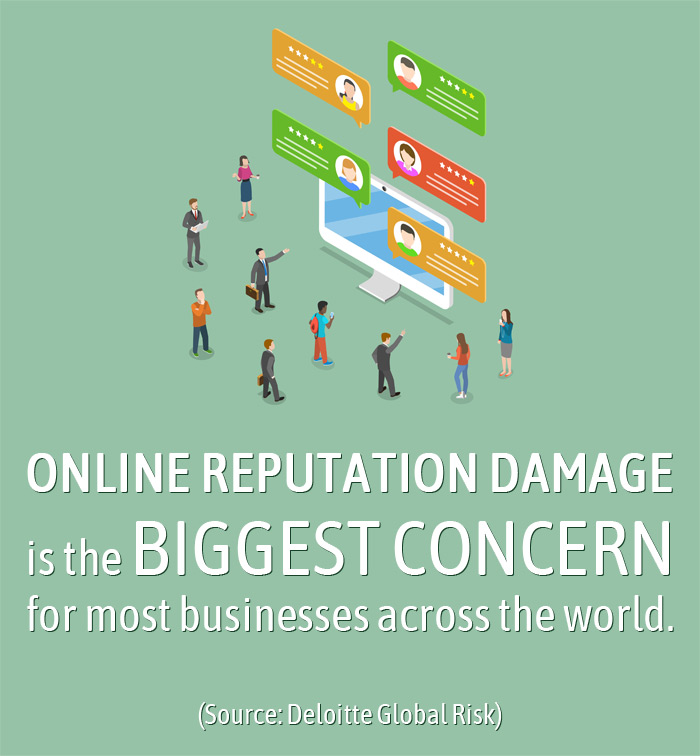 Wrapping Up
With consistent time and attention, your practice will be able to avoid making common online reputation management mistakes. However, it takes an active interest and a willingness to go above and beyond your usual practices and activities. It is important to engage with patients and ask the happy ones for reviews. However, do not ignore negative reviews. Use all possible means of communication as an opportunity to gain knowledge and improve your brand image. In addition, make it a goal to join hands with the right influencers. Make sure your brand is transparent and stands true to its words and vision.
A strong online reputation management for doctors takes thought and planning, it does not need to be overly complicated. As long as you avoid these common mistakes, you should be able to develop a brand that is instantly recognizable, credible and connects with your target audience.
Visit mypracticereputation.com or call at Toll-Free: (844)544-4196 to learn more about online reputation management for doctors.