If your medical practice has a website, it needs visitors. The more, the merrier. More traffic will translate to more online visibility and an improved bottom line. However, high but random traffic will not add much value to your website or its content. Therefore, your focus should be on driving the right traffic, consisting of potential patients who can contribute to the growth of your practice. But let's face it, attracting the right traffic can be a very tiring and testing job. And because this is the first step in the process of generating qualified leads, it is important to do it right.
Organic traffic on your website is an important indicator of your practice's growth. It can help you to see how well your marketing campaigns are working, gather insight about your target audience to make strategic decisions, improve your SEO strategies and search engine credibility, generate qualified leads and improve conversions.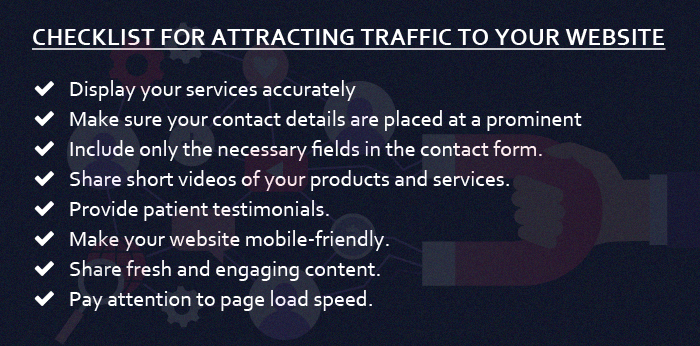 How to Attract Website Visitors
If you already have a website, you have perhaps tried the usual tactics like content marketing, social media marketing, search engine optimization (SEO) and pay-per-click (PPC) to increase your website traffic. These tricks often work well, but sometimes no amount of marketing can help increase traffic if your website is poorly designed. However, if your website is built professionally and is optimized for conversions, getting a jump in online traffic could mean more patients and more profits. In order to help you increase your website traffic, we have put together a list of five proven tactics.
Revamp your website: A basic, nonappealing website is not going to attract your target patients for a long time. You will need to ensure that the content on your website is geared toward attracting and engaging your target audience. The terminology and vocabulary provided in your marketing materials must be available on your website. Visitors who are looking for a high-end experience will not be very impressed if your website is slow to load or has technical issues.
Use SEO to help searchers find your website: Can potential patients find your website easily? When patients search for healthcare practitioners online, you want your practice to be one of the top results for that search, especially since one-third of all clicks go to the first three organic results on Google. The top position is a key component for generating sustained and qualified traffic to your website. Search engine optimization, or SEO, is the process of refining your website to improve its chances of ranking highly in search results for relevant keywords.
Share useful content: Most visitors do not even have time to read dense content. If your website content consists of long sentences that are difficult to comprehend, not many visitors are going to stick around. One of the biggest reasons for visitors leaving a website is that the content is boring or difficult to consume. Be sure to avoid thick blocks of content. In order to make your content easier to read, make sure the font size and line spacing are sufficient. Increasing the font size and line spacing on your website can give a significant boost to your customer engagement levels. The heading and subheadings also play a key role in maintaining your readers' engagement levels.
Create effective calls to action (CTAs): CTAs are triggers for your website visitors to perform the desired actions. CTAs, if used properly, can boost your patient engagement rate. The best ways to create compelling CTAs are to use the right language and place them strategically. The best time to request your visitors to take the desired action is after they have finished reading through your content. A strategically placed CTA might give your website visitors a reason to explore your website longer.
Start a blog: Blogging can add fresh content to your website on a regular basis and help with SEO. Consistently posting fresh content on your blog shows that you know your business well and are trying to keep your patients engaged. On your website, you may also provide information about general procedures, share healthcare tips, announce discounts and provide updates about your practice. You can promote your blog using social media and use it to engage with existing and potential patients.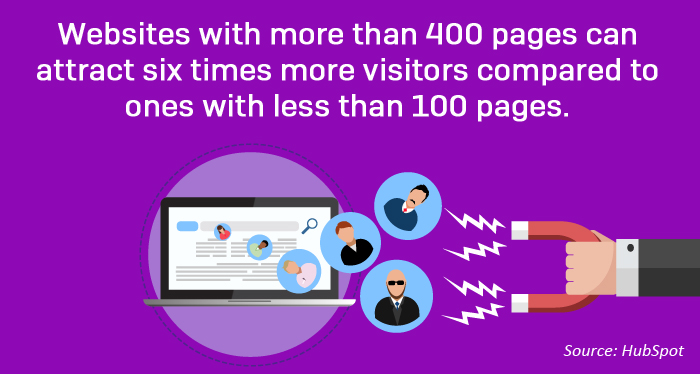 Best Practices for Engaging Your Website Visitors
Take the first step to protect your online reputation and request your Online Reputation Assessment.
Having a beautiful website goes beyond a fancy design. A pretty website may impress your visitors, but if that is all you have to offer, you may not get the best return on investment. Your website must serve as a marketing platform for your medical practice and convert visitors into patients. On top on it, with such intense competition in the healthcare market, it is critical for your website to override your competition and help you stay ahead of the pack.
Healthcare marketers understand the importance of having an attractive website and getting regular traffic. However, gaining traffic is only half the battle. The challenge is making your potential patients stay on your website long enough to find out more about your services and, even better, schedule an appointment. Patient engagement is a critical metric in determining the effectiveness of your website. The longer you are able to keep visitors around, the more invested they will be in your practice, and the more likely they are to schedule an appointment with you.
Engaging visitors and converting them into potential patients requires a strategic approach. It merely takes a few seconds for a visitor to decide if he or she wants to continue browsing your website or move on to your competitors' website. If, in those few seconds, your visitors are not convinced with the range and quality of your services, they will leave your website. So, is your website capable of engaging and retaining potential patients? Here are some best practices that will help you build a website that not only attracts visitors but also engages them:
Highlight your unique value proposition (USP): Use compelling language to convince potential patients how your service will address their health problems. What features make your practice or staff better than your competitors? If you can get your visitors convinced about your practice and make them schedule an appointment, you will see your conversion rate improve.
Establish credibility: Potential patients are less likely to enter their contact information if they are concerned your website is not trustworthy. You must communicate your trustworthiness by displaying security badges and patient testimonials on your website. You can also highlight security measures and precautions taken in your privacy policy. Make sure your contact details are easy to locate so that visitors know they are interacting with a trusted brand.
Improve website speed: If your website takes longer than five seconds to load, it can frustrate your visitors and may give them a reason to quit. In order to increase your website's loading speed, consider removing nonessential videos and large images that may be taking the time to load. Compressing the images will also help reduce the page load time.
Simplify the contact form: Contact forms should collect the minimum information required to communicate with potential patients. Ideally, your contact form should only have four fields – name, email, phone number and comments. Any forms containing additional fields will reduce conversion rates. If possible, make the contact form accessible on all pages. Placing the contact form in a prominent place is a popular tactic for maximizing the conversion rate.
Include video content: Video clips can add a human element to your website in an appealing manner. In order to get the best results, keep your videos under two minutes long and capture some great visuals of your practice, staff and services. You can also create patients' testimonials in the form of videos.
Display patient reviews: Patient reviews can be one of the most popular sections of your website because a lot of potential and existing patients will take an interest in reading them. Including reviews and testimonials on your website will not only enhance your credibility but will also increase conversions.
Upload actual pictures of your products and services: In order to increase the effectiveness of your website, real images can work wonders. You can upload photos of your office, waiting rooms or other services. Picture of a neat flower arrangement in the waiting room can add a pleasant touch. Pictures will help potential patients connect with your staff and convert at a higher rate. However, do consider HIPAA laws and regulations regarding patients' privacy before uploading pictures.
Make your website responsive: With more and more people using mobile devices to access the Internet anytime and anywhere, a nonresponsive website may hinder user experience. A responsive website will provide an optimal viewing experience by making the interaction comfortable since the interface will become easier to read.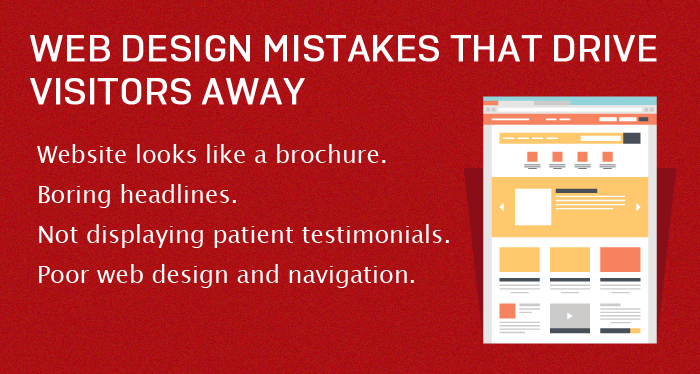 Conclusion
These are only some of the many tips and tricks you can use to drive traffic to your medical practice website. Getting more visitors to your website will not happen overnight. It takes months of hard work and dedication. Just implement a mix of these proven healthcare marketing strategies and you will start seeing a jump in your website traffic.