Building a successful dermatology practice requires dedication, excellent customer service and solid marketing. Dermatology practitioners can no longer open a practice and expect patients to find them. Medical practitioners, regardless of how experienced and skilled they are, need to differentiate themselves from competitors and strive to reach the target audience in innovative and cost-effective ways. Effective marketing strategies can help dermatology practices build and expand their patient base.
In most dermatology practices, the marketing budget is not much compared to other operating costs. The good news is dermatology practitioners do not need to spend thousands of dollars to reach potential patients. Most marketing techniques require time, creativity, persistence and effort. Some of the innovative dermatology practices have replaced traditional dermatology marketing strategies with cutting-edge online marketing campaigns.
Sending greeting cards to new residents in your area may not produce as many patients as it did in the past. The fact is, postcards cannot help you because people are looking less into their mailboxes and more into their emails for valuable communication. While the end goal of a dermatology practice is the same today as it was decades ago, the most cost-effective ways to get more patients in your doors have changed considerably.
Top Dermatology Marketing Tips
As a dermatology professional, you know what makes you stand out from the competition. But to potential patients, your practice may be getting lost in all the noise. So how do you plan to overcome barriers in your market that are preventing you from achieving your goals? How will you reach new patients?  The answer is simple: You will have to implement the latest online marketing strategies for increasing your social visibility and attract more patients to your practice.
Whether you are a new dermatology professional or own an established practice, there are many inexpensive marketing techniques to promote your practice. Here are a few actionable dermatology marketing strategies to help you get started:
Take the first step to protect your online reputation and request your Online Reputation Assessment.
Build an informative website: One of the most important aspects of dermatology marketing is having a website that is easy to follow. Your website is like the lobby by which potential patients enter your practice. This can be your chance to stand out. And, the way you stand out is by having a clean website that is easy to understand and explore. Make sure your website is designed keeping your target audience in mind. Your patients will navigate away from your web page if they find it outdated, slow or not mobile-friendly. Make sure your website clearly displays your contact information, work hours and directions to your office, services you offer and an option to schedule or request appointments. You can also include links to reach your social media accounts, patient reviews and your blog.
Utilize search engine optimization (SEO): Your practice's online presence begins with its website, and utilizing SEO techniques can help potential patients find your practice online. SEO techniques help your website appear higher when potential patients search for keywords relevant to your practice. Learning the SEO basics will be worth your time. Implementing a few basic SEO techniques will make your dermatology stand out from the crowd. The ultimate goal is to create website authority. An authoritative website is promoted by search engines as it contains information that is relevant to the target SEO, if done properly, is critical to your website's success and visibility of your practice in search engine results.
Collect patient reviews and testimonials: Word-of-mouth recommendations and patient reviews are worth more than their weight in gold. If you are great at your job, reviews and testimonials will be easy to produce. In most cases, patient reviews prove to be one of the most influential marketing assets. You can use patient testimonials on your practice website, printed brochures, online advertisements and on other marketing and promotional materials. Encourage your patients to review your practice on popular third-party review websites. Online reviews help enhance your brand image and patients' trust, which improves the chances of converting a visitor to a long-time patient. In order to collect testimonials, you have to send an email request to all of your patients. Alternatively, you can ask your front-office person to ask for a testimonial when patients are checking out after the consultation. Even if you do not feel an immediate need or use for testimonials, do not forget you are a part of an industry that relies on word-of-mouth. Your reputation is ultimately what potential patients see when they find you online.
Start a dermatology blog: If you publish good-quality, thought-provoking content that appeals to your target audience, you will not only build credibility as an industry expert but will also attract more patients who are choosing you over your competition. However, writing a blog is no walk in the park. It requires knowledge, focus, dedication and, above all, a willingness to do trial-and-error. You will need to take the knowledge from your experience, build on it and share it with your target audience. In addition to the knowledge-sharing part, blogging has other benefits. Blogging can improve your search engine rankings because Google prefers websites with informative and unique content.
Promote your practice on social media: Social media has become a cornerstone of online marketing. An active social media presence provides opportunities for patient engagement and brand visibility. Since most people manage at least one social media account, it is a good idea to post valuable posts on a regular basis. Sharing relevant and informative posts on social media with your existing and new patients creates constant exposure for your practice, engages the target audience, improves your website's SEO and enhances your brand image.
Build an email list: To get started with building an email list, you can use the export options that are already available in your practice management software. These tools will all let you export email lists from your patient records. You can import those lists into an email newsletter tool like MailChimp or use an advanced tool such as Drip and send away your marketing emails. The advantage in sending emails is that they are more cost-effective and relevant than a greeting card campaign. However, if you send marketing emails from your dermatology practice name, you may get caught by spam filters. To avoid this and to keep the conversation on a more personal level with your patients, send it with your name instead of your practice name.
Nothing beats referral marketing: Referral marketing can have a tremendous impact on the growth of your dermatology practice, but you must continually provide exceptional customer service and stay engaged with patients. Referral marketing is all about generating trust with your existing patients, so they speak highly of your practice and services, and refer their family and friends to you. One of the biggest benefits of referral marketing is that it can reach a wider audience that may not even be looking for you. It exposes your practice to more people than your SEO and social media efforts. Another benefit of referral marketing is that it is cost-effective. Be sure to thank and reward your patients when they give you a referral, especially those who often refer their friends and family. You can write a handwritten 'thank you' note or offer a small gift card as a token of appreciation. The idea is to show that you value their referral.
Observe your practice: When marketing your practice, you must look at the bigger picture. This means not only evaluating the marketing efforts taking place outside your practice but also observing what happens inside. For instance, is your staff trained enough to convert potential patients to regular patients? Do they come across as friendly, knowledgeable and caring people? Do they answer patient queries satisfactorily and promptly? You can invest all you have in marketing your practice, but it may not help if new patients are misguided during the first phone call. Also, make sure you have a designated resource within the practice who responds to all email inquiries promptly. If a visitor fills out an online form or submits an email inquiry but never hears back from your staff, that is a sure-shot way to lose a potential patient.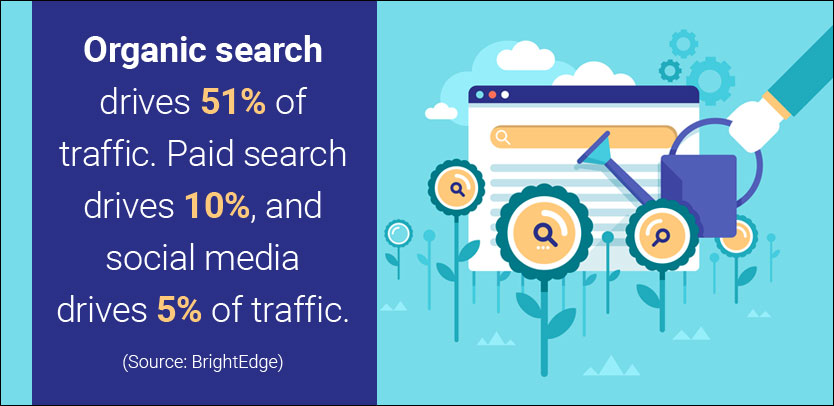 Conclusion
Instead of stressing over the number of visitors your dermatology website is receiving every day, try to focus on the number of patients that are resulting from your marketing efforts. Do not let temporary factors such as your search engine rank on any given day represent how well or badly you are doing. As long as you continue to move forward, these details should not matter much in the overall scheme of things.
These dermatology practice marketing tips can help you attract new patients and make your practice grow. However, do not make the mistake of neglecting your office decor as it has a significant influence in making your patients feel comfortable. And when patients feel at ease, they will want to come back to your practice and recommend you to others.
If you are looking to expand your dermatology practice to the next level, your long-term strategy should be to spread your traffic sources and invest in a great website design, SEO, social media platforms and excellent patient service. A well-planned online marketing strategy will include most of the points listed above, and you should aim to implement all of these tips to promote your practice to a wider audience.