According to a survey conducted by Software Advice, nearly 42 percent of patients mentioned positive online reviews as a deciding factor when searching online for a medical practitioner. In addition, 44 percent of respondents said they would be willing to see a doctor outside of their insurance network if the new doctor had better reviews than their current provider.
Potential patients are increasingly turning to third-party reviews to help them find a doctor in this age of high deductibles and co-pays. Among popular third-party review sites, Yelp and HealthGrades attract the majority of patients looking for reviews on a potential healthcare provider. However, do user ratings and reviews really help potential patients find the best doctors and hospitals? The answer is – Yes. Online customer reviews and ratings do make a difference in shaping patients' opinions about a healthcare provider. Experts are of the opinion that patients are finding a lot of valuable information in online reviews of medical practices. In fact, the quality of care is the most sought after information obtained from most online reviews. This dynamic can make or break the online reputation of a medical practice.
Research by the New York–based The Manhattan Institute stated that practices with higher online ratings are more likely to have lower rates of preventable readmissions. While patients who have either outstanding or terrible experiences are more likely to post on sites like Healthgrades, users can go over the ratings and reviews to determine why a reviewer rated a practice poorly. Here are three ways potential patients make use of online reviews:
Potential patients use online reviews to evaluate the entire medical practice. Patient reviews are an important factor in growing a practice and attracting new patients. One physician with a lower number of positive reviews can pull down the entire practice. Patient experience, staff friendliness, ease of scheduling and billing processes are some other key issues that shape patient reviews.
Reviews influence patients to go out of network, even with the extra cost. According to an Online medical review study by Software Advice, 47 percent of respondents would go out of network to see a new doctor with more positive online reviews.
Positive reviews can be the deciding factor for new patients. The survey revealed that almost 94 percent of patients when faced with a situation to choose a doctor, were very likely to use online reviews as the deciding factor. In addition, reviews that are unreasonably negative are mostly ignored.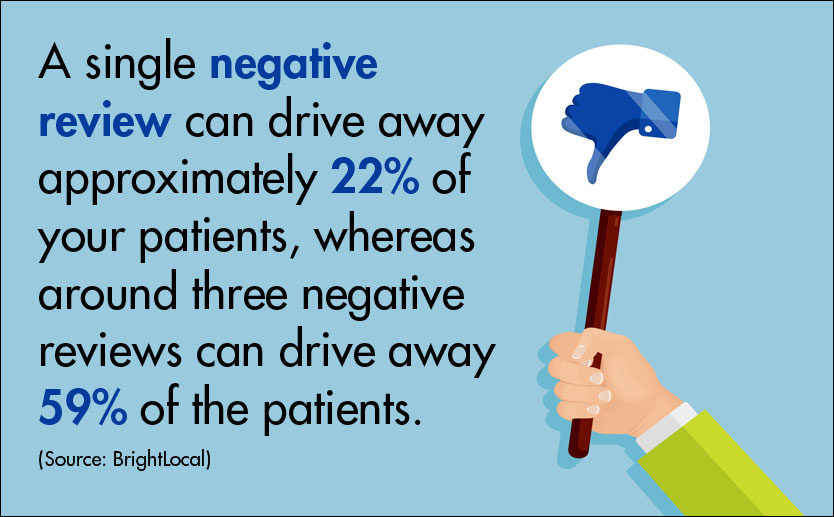 Do not ignore Healthgrades
As a physician, whether you like Healthgrades or not, is irrelevant. This is because most of your current and potential patients are using Healthgrades to research your medical practice more than any other third-party review site.
According to a recent study by Software Advice, in 2013, almost 25 percent of potential patients were using review sites to find a doctor. However, in 2014, this number jumped up to an astounding 42 percent. Another 2016 survey from Software Advice found that 59 percent of patients look at online reviews when making healthcare decisions.
In case you are wondering at what stage of the wellness journey patients usually look at online reviews, the answer is: at every stage of the patient journey. So if you are not paying attention to what people are writing about your practice on Healthgrades or any other review site, you could miss out on new business as well as repeat business. The same study also stated that 20 percent of patients use a review site to evaluate a current doctor and nearly 19 percent of patients use a review site after selecting a doctor. Based on this information, regardless of where the patients are on their wellness journey, they are using review sites to help them choose a doctor who is just right for them.
In March 2015, there were 22,534 calls every day from review sites to a healthcare facility. In addition, there were 30,155 visits to healthcare websites that originated from a business page. These numbers are quite surprising. In addition, since most patients are using Healthgrades to search for a specific doctor or procedure, they often have a very high conversion rate.
What is the next step?
Take the first step to protect your online reputation and request your Online Reputation Assessment.
The first step is to claim your profile on Healthgrades and optimize it with your accurate and updated business information. You must upload photographs, provide business hours, explain your products and services, and fill out contact and location details. The more information you can provide online, the more your patients will learn about your practice.
Once your business page is complete, you can look at the insights provided by Healthgrades to see how many times your page is being viewed. You can also see how many leads Yelp has sent you. However, if you are using Google Analytics, you can even see how much traffic Healthgrades has sent to your website.
Be sure to look at Healthgrades and Analytics for a complete picture of how Healthgrades is helping your practice grow. You may be surprised by the results.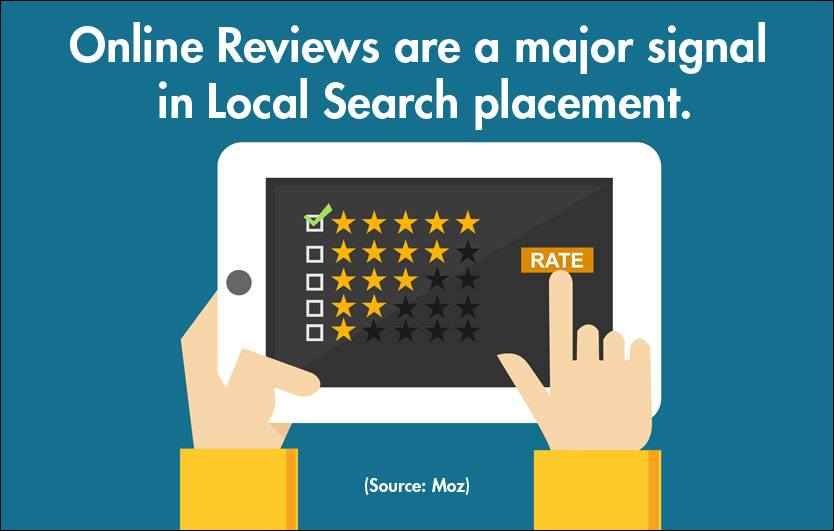 How can you improve your Healthgrades listing?
Claim and update your Healthgrades profile: Chances are your medical facility is already listed on Healthgrades. If it is, then claim and update your profile page. You will need to verify ownership of your practice and create a free account. After this, you can have a look at the Business Information section of your account. Your business profile is a rich source of information for your customers, but only if you keep the listing updated and accurate. You must provide important information such as the category of your business, address, location, phone number, product description, business hours, etc. You should make use of the various information fields available to educate your current and potential patients.
Create an extensive photo gallery: Pictures can add interest to your profile page, but still most business pages display a few poorly shot photographs. You should take advantage of the photo gallery feature and showcase your practice and services as much as you can. If you are a dentist, then post 'before' and 'after' treatment pictures. However, be sure to obtain a patient's consent before publishing the pictures publicly. Also, keep HIPAA guidelines in mind when sharing pictures of patients. According to studies, people spend more than twice the time on a Healthgrades listing with photos, which is another good reason to post as many pictures possible.
Respond to all reviews: Healthgrades allows healthcare practitioners to respond to patient reviews publicly. While this feature not used by many doctors, it can be a powerful way to appreciate or acknowledge a reviewer or address negative reviews in a calm and respectful way. According to studies, nearly 33 percent of negative reviews turn positive when you respond to them appropriately. As a doctor, your online reputation and visibility are within your control. The way you manage your Healthgrades account can do a lot to set you apart from your competition, especially because not many healthcare providers are doing it.
Healthgrades also offers businesses the opportunity to advertise through its platform. There are several ways your medical practice can benefit from advertising on Healthgrades, but the best of all is not to allow any of your competitors to be displayed on your business page. This will help a user focus and read only about your practice and products instead of being wooed by a competitor.
The impact of online reviews is getting bigger
The steps shown above should help a medical practitioner get ahead of its competitors. With proactive management, your positive reviews will increase, thus improving your search engine ranking despite the few negative reviews. When potential patients search on your name, they will be steered to strong and positive ratings rather than weak and incomplete feedback. Therefore, you must focus on the positive feedback, and use the negative feedback to improve your practice and service.