Market research aims to understand the reasons patients will visit your practice and avail themselves of your services. It also covers aspects like target market behavior and how financial, societal, cultural and personal factors can influence that behavior.
When conducting market research, here are some of the fundamental questions you must attempt to answer:
Who are your target audience? Describe them in terms of gender, age, income, occupation, lifestyle, education, profession, etc.
Which medical practices do they visit these days? Describe their preferences and needs relating to your products or services, including how much they rely on healthcare practices, their preferred physician or practice, the best available products and acceptable price points.
What will make them come to your practice?
Although some of these questions may seem complicated, you would be surprised at the detailed information that is available about the target audience, revenue figures and target audience motivations. It is important to tap the various information sources to seek answers to as many questions as you can. This will help make your plan more convincing and improve your chances of success.
Market research does not come cheap. It requires a significant amount of expertise, effort and resources to achieve the desired results. However, for practices of all sizes, the best market research is the research they do on their own. In-house research might take the form of telephone interviews with patients, crunching numbers from published sources or competitive intelligence that you might have gathered on your competitors through social networks.
Whether you agree or not, as a medical practice owner you conduct market research all the time. When you talk to your existing or potential patients about your practice or check out your competitors' prices, you are conducting market research. When done right, this process can produce a wealth of information about your services, your target audience and the market you operate in.
Far too many entrepreneurs or medical practice owners embark on ventures without proper market research. Often, a medical practice failure is said to be the result of poor market research. Successful entrepreneurs are risk minimizers, rather than risk takers, and market research enables them to reduce risks.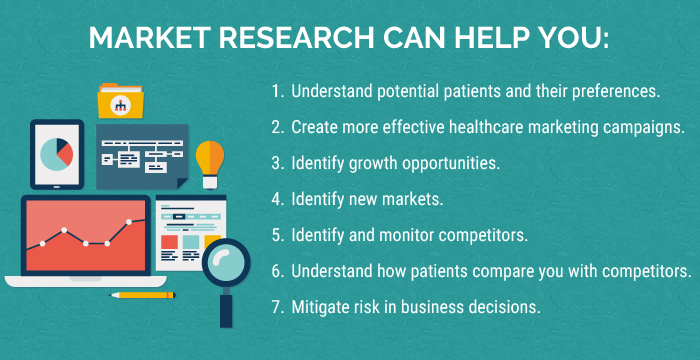 Why conduct market research?
The goal of a market research campaign is to equip you with the information needed to make informed decisions about your start-up medical practice and the 4 P's:
Products or Services: Improve your offerings based on findings of what your target audience wants and needs. You can focus on factors like unique selling features of your services.
Price: You should decide on price after considering profit margins, competitors' prices and the price your target audience is willing to pay.
Placement: This is where you get to decide about the placement or display of your products.
Promotion: Think about various ways and channels to reach your target audience. Your preferred marketing channels may include traditional advertising, social networks, website, email marketing, etc.
Market research can help you:
Understand your target audience and their preferences.
Create more effective and targeted healthcare marketing campaigns.
Identify potential business opportunities to grow and increase profits.
Identify and monitor your competitors.
Reduce or manage risk in your business decisions.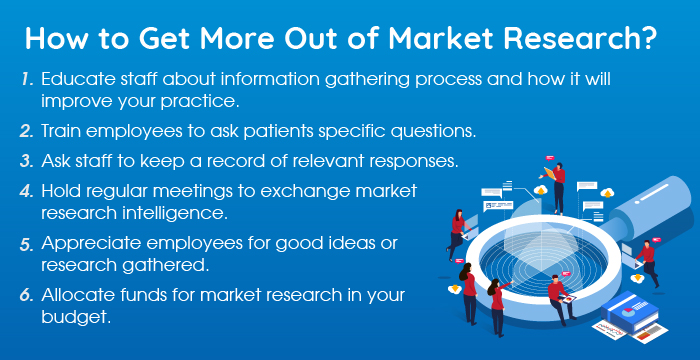 Right Time to Conduct Market Research
Market research is viewed as a component of the planning stage before launching a new medical practice. Indeed, market research is critical for start-ups and should be a key element of healthcare marketing plans. This data feeds into a number of areas and helps to:
Determine the revenue potential of your services so that the correct prices can be set.
Attract patients to your practice and establish your brand image.
Set the right prices for your offerings.
Retain patients and earn repeat business.
Needless to say, one practice's market research data and marketing plan will be different than another's objectives and tactics. Even practices within the same area will have different business goals and marketing strategies based on their strengths, weaknesses, opportunities and threats. However, there are guidelines for running market research campaigns that every practice must follow.
Healthcare marketing plans and market research are not solely for new practices. Accurate assessment of the market and development of an effective business plan are critical to the success of both new and established practices. Medical practice owners who contemplate significant changes, such as expansion and relocation, also use market research to support their decisions. Some of the situations that might call for market research are:
Take the first step to protect your online reputation and request your Online Reputation Assessment.
Launching new healthcare marketing campaigns.
Opening a new location or changing the practice location.
Introducing new lines of services.
Entering or exiting a market.
The quality of information gathered through marketing research campaigns can be very useful in day-to-day operation. A consistent flow of reliable information can help you maximize the potential of your current activities and help you create a roadmap for future growth.
How to Conduct Market Research?
A practice that understands its target audience and their needs can establish itself successfully, compete with other practices, target new patients and identify new opportunities. Follow these steps for running successful market research campaigns:
Step #1: Assess Target Market Size
While assessing your target market size, your approach should depend on the scale of your new practice. While determining the potential market size, be sure to look at both value and volume. Volume refers to the number of potential patients, while value refers to the value of the target market.
Assessing potential market value can be a challenge. One approach is to see if an approximate figure is publicly available. Other approaches include buying a research report or estimating the figure yourself.
Step #2: Segment the Target Market
If your new medical practice targets specific market segments, then you should segment the target market in order to understand it better. One of the best practices is to examine the market from a demographic perspective. This approach will provide valuable insights that will help you determine your next step.
Step #3: Define Your Target Market
Your target market is comprised of potential patients you will be focusing on. Defining your target market is even more important when your market has too many segments and each segment has different demand drivers.
Step #4: Define Your Target Audience Needs
This step demands a qualitative assessment of your target market by defining the market needs. While defining the needs of your target market, you should go into the details of demand drivers for your services. Why will potential patients buy your services? What health problem are your products addressing? How are your offerings different from what is already available in the market?
The market needs can also be derived from looking at the efforts of your competitors and emphasizing more on markets where your competitors are not focusing.
Step #5: Identify Entry Barriers
In this section, you should answer the two most important questions:
What factors may prevent someone from opening a competing practice next to yours and end up snatching 50 percent of your business?
What factors will make you successful in your target market?
Simply put, barriers to entry will help protect your start-up medical practice from new competition.
Conclusion
By following the steps mentioned above, you will be able to put together a comprehensive healthcare market analysis for your new medical practice. Conducting healthcare market research can be an eye-opening experience. Even if you think you know your target audience or market well, conducting a market research campaign will uncover new channels and tips to help improve your healthcare marketing plan.