Case studies are underleveraged, yet very effective. In fact, case studies are more effective than brochures and traditional, expensive marketing collateral. The reason? Because people love to read stories. This is what case studies allow you to do – tell remarkable stories about your practice, staff and products. And the patient stories that you share can evoke emotions, paint pictures and give your practice a sticky power.
Most people connect with stories, and there is no better method of storytelling in healthcare than sharing your patients' experience in a data-backed case study.
Essentials of a Case Study
While there is no set format for creating an effective case study, most of the successful case studies contain similar elements. In general, there are three parts to a case study.
The Problem: Give a brief of the problem.
The Solution: Outline the different solutions or courses of treatment available.
Results: This is where you showcase your products and services as the best solution to the problem.
When you build a case study on these basics, the end product will be an informative, shareable and engaging piece of content. In order to improve the quality of your case study, do not get too caught up with finding and fixing the format.
An original story cannot be locked into a formula. You do not have to restrict your content into specific modules like business plans. The most engaging and compelling stories take a creative approach and then play with perspective. At any cost, avoid writing your case study from your own perspective. This would be like writing testimonials for your own staff and services. Simply put, a successful case study highlights "What is in it for me?" from the target audience's perspective.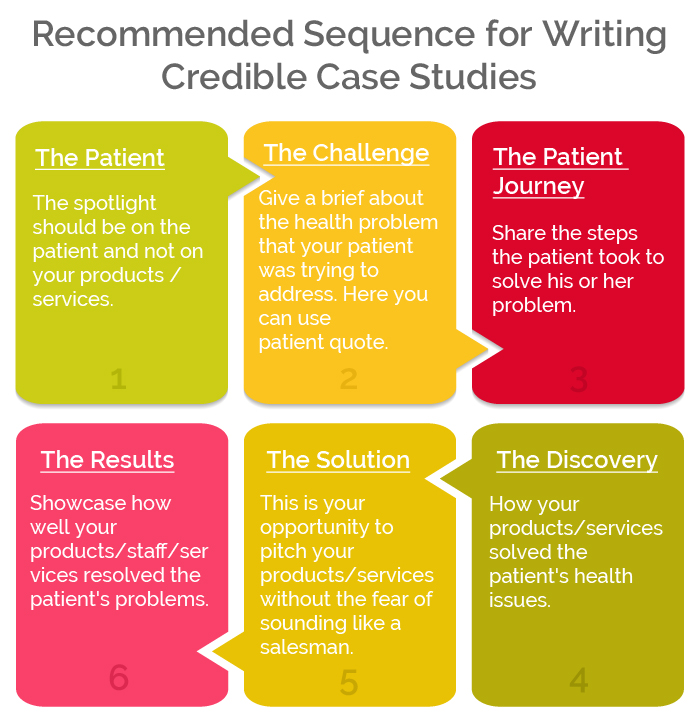 Importance of Case Studies
We all understand the importance of social proof – telling our website visitors and potential patients that others have tried your products and are satisfied with your services. The different types of social proof include online reviews, social shares, patient testimonials and case studies.
Case studies are a building block of healthcare marketing for improved lead generation and a healthier bottom line. The main purpose of case studies is to attract new patients by demonstrating the satisfaction that existing patients have already experienced. This the reason case studies are also known as patient experiences or patient success stories.
A case study lets you show off how your staff and services are better than your competitors, and all of the other aspects that your existing patients love about your practice. In addition, case study content will improve credibility and provide authoritative content, which will work wonders for both SEO and online reputation perspectives.
Another great thing about case studies is that they are targeted and specialty-specific. In other words, if a case study if properly developed, it will never appear vague to readers. There is very little risk that your case studies will miss the relevance mark. You can rest assured your case studies will resonate with the needs of your target audience.
Creating Impactful Case Studies
Before you start writing a case study, make sure you understand your target audience and their pain points. Having detailed and in-depth personas will help you write patient stories that can answer most of your target audience's questions. You can collect information about pain points of your target audience by:
Checking with your staff and patient engagement team for common questions.
Noticing what patients ask you after they have come to your practice or used your products.
Monitoring social media networks and online forums.
Monitoring and tracking some common online platforms will help you assess what pain points you need to address when creating case studies.
Finding Ideal Candidates for Case Studies
Your next step is to find patients who will be happy to explain how using your products or visiting your practice has addressed their health issues. However, do not choose just anyone. The ideal patients for creating case studies must:
Match one of your ideal patient personas.
Be a loyal patient who is satisfied with your services.
Be happy to be interviewed.
Important tip: Make sure the patients you are interviewing for your case study are able to articulate the value that your products add to their well-being. If you are doing a video case study, then avoid people who get tongue-tied when faced with a camera. However, when doing a video case study, be very careful of HIPAA regulations and seek all permissions before you begin recording.
Take the first step to protect your online reputation and request your Online Reputation Assessment.
When looking for patients for case studies, monitor patient interactions on social networks and mentions of your practice to see who are posting positive comments about your practice and services. Patients who are posting positive reviews might make good case study subjects.
In addition, if a popular influencer loves your product or visits your practice, featuring him or her in a case study can give an additional boost to your marketing campaigns.
Asking Relevant Questions Is Critical for an Impactful Case Study
Once you have identified the patients for a case study, it is time to draft questions for the interview. You can interview by email, phone call, video chat or in person. However, it is advisable to talk to patients in person because the human connection is likely to give you a more natural interaction.
Try to ask more open-ended questions. A patient is more likely to express his or her thoughts better if you ask the following questions:
The health issue they experienced that made them want to visit your practice.
What you offered or suggested that made them choose you.
How your products or services benefited them, and how they can substantiate their claims.
What is unique about your staff and services as compared to your competitors.
What they would tell others about your practice, products or services.
How to Write a Case Study
You can follow a number of approaches for writing a case study from the interview material. However, for most readers, case studies that tell a story, highlight the issues and involve real people seem genuine and trustworthy. You can choose to present your case study:
In chronological order, narrating events as they happened.
Using the problem, solution and results format.
Using the background, goal, strategy, implementation and results achieved format.
Like in all healthcare content marketing pieces, it is important to write an attention-grabbing headline that will draw the target audience into your case study. Many headlines include the treatment used, the key benefit that the patient received and some tangible data.
When creating a case study, it is important to be factual. Do not shy away from including any failures or setbacks as they may increase your credibility. Highlight details that make your practice look trustworthy, without being too salesy. Put your patient in the spotlight and let his or her words show how amazing your services are.
Most important, format your case studies like other online content – make them bite-sized and scannable. As much as possible include subheads and bullet points, and highlight key data. Break the text wall with interesting graphs, screenshots and quotes.
Do not be afraid to experiment with formats. A lot of healthcare marketers present case studies as infographics and slideshows in addition to text format, audio and video. The format of your case study does not matter as long as you are telling a compelling story that your target audience will relate to.
Promoting Your Case Study
Once your case study is ready, the next step is to promote it. Your practice website and blog are obvious places to show off your case study, and you can do this in various ways: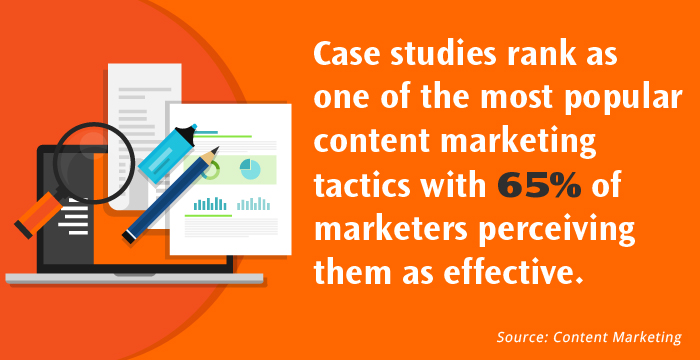 Write a small note that you have prepared a case study that highlights the benefits one of your patients received from your services. Post this note on your website.
Write a summary or a synopsis of the case study that highlights the major portions of the case study.
Publish your case study as a blog post, or gate the content, asking website or blog visitors to subscribe to your email in order to read the full case study.
You can also upload case studies on their separate landing pages and promote them to the patients they are most relevant to.
Case studies are great for offline lead generation because you can print them as handouts to give away at networking events. If done right, patient case studies can be a compelling healthcare marketing tool. Are you using them to promote your medical practice?
Want to learn more about online reputation management for doctors? Visit us at mypracticereputation.com or call us at Toll-Free: (844)544-4196.