In today's Internet-driven world, patients have more power than ever. If patients are happy with your services, they will share a positive experience with their friends and family, which in turn can lead to new patients. But what happens if you fail to meet a patient's expectations in terms of service, staff attitude or even waiting time? The answer is: Your patient will complain.
According to research, nearly 13 percent of unhappy customers will share their complaint with 15 or more people. In addition, only one in 25 unhappy customers will complain directly to you. And for customers who will not complain, they just stop doing business with you. Now, there is a silver lining here: A patient complaint highlights a problem area, and by paying attention to these problems, you can investigate and fix the issues so that other patients do not have to face the same problems in the future. In addition, according to the same research, customers whose complaints are handled efficiently often turn into loyal customers and even your brand advocates.
Simply put, a patient complaint can become profitable when you can resolve their problem promptly and efficiently. Not listening to patients may have an irrecoverable effect on your practice. Tardy patient service may also lead to angry patients. Treating patients without any respect and leaving their problems unattended is the fastest way to become "known" for the most terrible patient experience.
In addition, it takes much more time, effort and money to acquire a new patient than to retain an existing one. Therefore, patient retention is a crucial marker of success for your medical practice. A practice's patient retention is drastically affected by the quality of its patient service. Almost 89 percent of patients will stop visiting a practice after a poor service experience.
In order to satisfy patients, practices have to keep up with the latest technological advances and train their staff or suffer the consequences. By introducing an efficient patient service strategy, your practice will have not only positive feedback but will also earn its patients' trust and loyalty.
How to intercept patient complaints
Not all unhappy patients will let you know about their grievances. Finding complaints online is not easy either, so here are a few suggestions on how to start:
Have any bad or discouraging remarks been on your blog?
Has your practice name been mentioned on Twitter?
Do patients post messages on your Facebook page?
Has anyone left a negative review on your Google My Business page?
Did you check your YouTube channels for any negative comments?
Is your practice name listed in any complaint directories or online forums?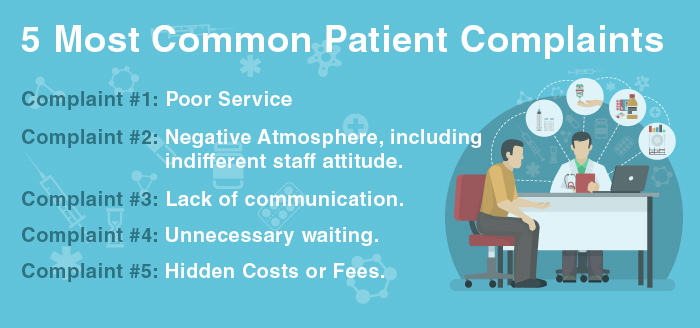 The Internet enables patients to share their feedback on multiple channels, such as online forums, third-party review websites and social networks. Without taking the appropriate steps, patient complaints can snowball and go viral. This means you need to engage in social listening and get more proactive in patient complaint handling.
You will need to monitor popular social networks and online platforms. If you do not respond to negative remarks posted by people, readers will assume you do not care. But if you respond to online reviews, it will convey that you are making an effort and that you do care for your patients and their experiences at your practice. This act alone can inspire brand loyalty and patient confidence.
However, when a patient makes a complaint, he or she is voicing concern about your product, service or staff. However, not all complaints should be treated equally. Ask yourself the following questions before you take any action:
Has this issue occurred before?
Was the complaint recorded?
How often does this type of problem arise?
Is there a pattern for this type of problem?
Did the same patient report this problem previously?
By answering such questions, you can take the steps required to prevent problems from happening again. For instance, if several patients are complaining about a specific issue, you can use their feedback to improve the problem area. Alternatively, if you are already working on the solution and are still receiving similar complaints, you can create an email template that explains how you are going to address the issue.
Ways to handle patient complaints

For every unhappy patient who expresses his or her dissatisfaction to your team, many more patients will keep silent and most likely never return to your practice. Others will share their negative experiences with their friends and family. Thanks to social networks, there is a strong possibility that patient dissatisfaction will come in the form of angry tweets, rants and negative reviews.
No matter how committed you are to patient service, you are going to have some problems with some patients. And there are only two things you can do about it: Prevent as many issues as you can and resolve the ones that you could not prevent in the first place.
So, go the extra mile for your patients and steer away from delivering a bad patient experience. Most importantly, keep reminding your patients why they chose your practice in the first place. The next time you receive a patient complaint, try to help transform it into a growth opportunity. But before that, try these strategies for preventing patient complaints:
Listen for unspoken needs
In order to prevent patient complaints, the first thing you can do is listen to what the patient says. But just as importantly, pay attention to the little things. Look for the small clues that tell you what a patient really wants and needs. This is because no patient is ever going to call you and say, "If you can tweak your appointment schedule for me, I will be a loyal and satisfied patient." Your patients expect you to figure out their problems and, if possible, try to provide a solution. And you had better figure out their problems if you want to survive and thrive in your market.
Take the first step to protect your online reputation and request your Online Reputation Assessment.
Record your patient's needs
After you have learned what your patient wants, you must share those wants and needs with your staff members. It is a critical step in the process of delighting and retaining your patients as well as preventing any potential problems from flaring up into catastrophic mistakes.
Handling patient complaints is an ongoing process. You can use patient service software to track and monitor progress on past complaints on a monthly basis and to follow up on pending complaints. Always remember that if a patient leaves you, you lose revenue.
Make sure your staff is aligned with patients' needs
The only way you can stay in business is by meeting and exceeding the demands of your patients. Take this quiz to see how well you are positioned to exceed, or at least meet, your patients' needs. Ideally, you should be able to answer "Yes" to most of these questions:
* Does your staff understand the expected quality service standards?
* Is your staff empowered to make the necessary decisions in order to delight patients?
* Do you encourage and reward your staff for going the extra mile for patient service?
* Does your staff follow guidelines for handling difficult patients?
* Is patient service training given to your staff on a regular basis?
* Does management interact with and listen to staff and patients regularly?
* Does management invest time and energy on activities that support quality service?
* Does management solicit feedback from a variety of sources in order to identify issues and opportunities?
* Does management share benchmarks for patient service and celebrate victories?
Most likely, you had some "No" answers. Most practices do. But at least you were able to identify the gaps in patient service.
Conclusion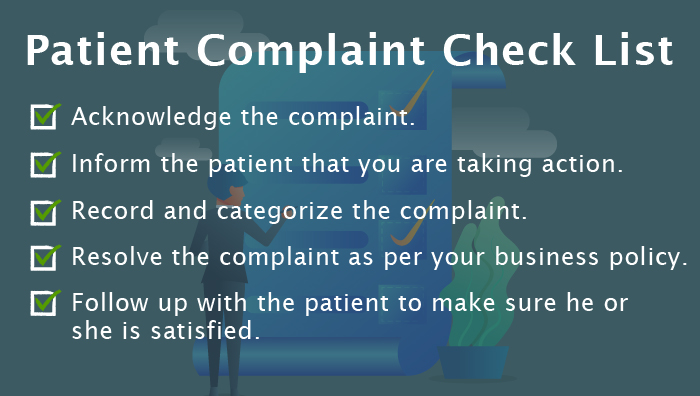 Patient complaints are an integral part of your growth as there is no better way to collect direct feedback about your practice and improve your service. However, the way you handle an unhappy patient is the difference between keeping a patient or losing one. So the next time you feel things are not going great, try to have a good chat with your patients, listen to what they have to say, apologize if need be and follow up after a few days to see if he or she is happy with the way you are handling problem areas. Both your patients and your medical practice will thank you for it.