With increasing evidence that patients are the backbone to any practice and the abundance of information that is s available about the patient journey, gastroenterology practices have no excuse for ignoring how to improve patient satisfaction. Better yet, it is alarming how many practices do not fully understand the importance of increasing patient satisfaction and are comfortable with "satisfied" patients when they have the resources available to "wow" their patients.
Let us assure you, efforts to improve your patient satisfaction will never go in vain. The fact is, with competition rising, acquiring new patients is not just challenging, but also very expensive. It makes more sense to invest in patient experience and focus on delighting your existing patients and offering them quality service that will increase their trust in your practice.
Why Is Patient Experience Important?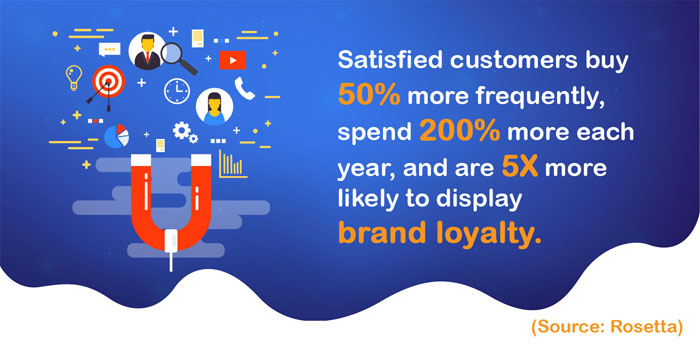 Value-based performance is forcing gastroenterology practitioners to achieve financial objectives along with improving the patient experience. This is because patients who have excellent experience are more likely to return and recommend your practice to others. However, if they are not happy with your service, they will run to your competitor and post negative feedback about your practice on social media. Happy patients, on the other hand, will be immune to competitors and help in increasing your revenue and profitability. Besides, patient satisfaction is necessary to obtain positive feedback on review websites.
Unfortunately, most gastroenterology practitioners do not understand what satisfies a patient. They assume that the biggest factor is the quality of treatment. What they do not understand is that patients have no way to measure the quality they are receiving. Instead, patients rely more on how the doctor and the medical staff respond to their emotional needs.
While acknowledging the need to improve patient satisfaction is an important first step, from there it can be a tough task to understand what changes will yield the best results. Providers need to have an honest assessment of what their practice and services look like from when a patient first schedules an appointment all the way through follow-up with a doctor. Changes, big and small, during this process, can improve a patient's overall experience. There are many reasons why patient satisfaction is one of the top priorities for every practitioner. Here are some of the obvious ones.
Quick publicity: According to a report, satisfied patients share their experience with five others while unsatisfied patients will complain to nine or more people. Online reviews put gas on the fire. With increasing numbers of patients posting about their good and bad experiences online, potential patients are getting a glimpse of what is going on "behind the curtain." If your team is delivering excellent quality of care, more people will get to know about it. In addition, if you are continually missing the mark, these negative remarks can snowball even faster, catching the eyes of even more potential patients.
Financial success: A number of factors that affect your bottom line are linked to patient satisfaction, including new patient growth, physician bonuses, fruitful partnerships, etc. According to industry estimates, in the U.S., loss of a patient due to dissatisfaction can result in the loss of over $200,000 over the lifetime of the practice. Do you want to understand just how significant is the impact of higher patient satisfaction? According to the Press Ganey study, hospitals with patient satisfaction in the 90th percentile experience nearly a one-third increase in patient volume or an additional average of 1,382 patients per year. For hospitals with patient satisfaction in the bottom 10th percentile, the average volume loss was 17 percent. In addition, Rush University Medical Center in Chicago has calculated that higher patient satisfaction scores can potentially translate to $2.3 million in additional revenues annually.
Improved patient retention: Whether you are running a coffee shop or a healthcare facility, happy customers come back and refer others. As the cost of patient acquisition is high, so retaining existing patients by delivering extraordinary care is one of the sure-shot ways to reduce turnover, increase loyalty and extend lifetime value. However, failing to deliver excellent service means losing a patient forever. Moreover, even if you are losing only a single patient, that is one patient too many. Patient satisfaction is not just a bonus; it is a huge investment in the future of your medical practice.
Attract more patients: When it comes to our health, we tend to trust family and friends over any other marketing channel. Patient care is a double-edged sword. If you fail to meet your patients' expectations, they may complain to nine more people. Some marketers feel it is a high-risk, high-reward case. However, if you approach this matter logically, there are no major risks at all. This is because the positive aspects of personal recommendations extend all the way to social media platforms and third-party review sites. By delivering on positive aspects, medical practices can build up their image among their existing patients and attract new ones. As a marketing strategy, word-of-mouth proves to be more efficient and less costly than other marketing tactics.
Charge more for better care: Studies have revealed that patients are willing to pay more to consult with a better physician of their choice. According to the Patient Satisfaction journal, medical practices with high patient loyalty can command a higher price for their superior services without losing profit or market share. In other words, greater patient satisfaction lends medical practitioners the ability to demand higher prices.
Better clinical outcomes: According to a study in Academic Medicine, patients who trust their doctors have better clinical outcomes. In simple terms, this means that the effectiveness of treatment depends on how much a patient trusts his or her physician. Meeting your patients' needs will not only help you raise their satisfaction level but will also make your job easier.
Steps To Improve Patient Satisfaction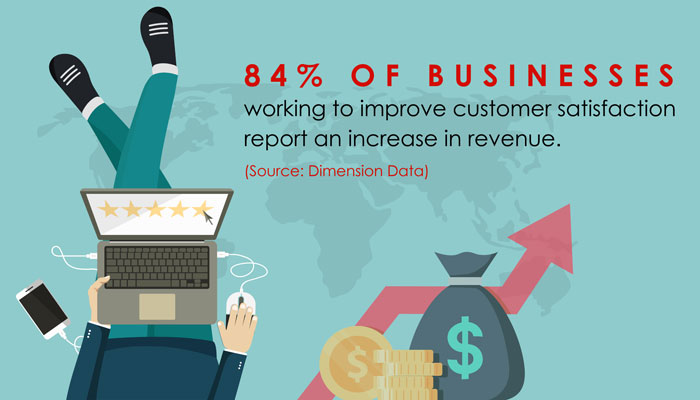 An effective way to kick-start your patient satisfaction strategy is to build a blueprint. This 5-step process will help your gastroenterology practice take a good look at the end-to-end patient experience you are delivering and will highlight areas for improvement. Here are the steps:
Step1: Identify every touchpoint of your patient journey
Your front office staff is often given the burden of keeping patients happy. However, we all know that it takes a village to "wow" a patient. Taking a good look at the full cycle of your patient journey is critical in assessing where your patient satisfaction is falling short and what all could be improved. Looking at your support staff efforts in isolation may put you at risk of ignoring specific moments when decisions are made and preferences are defined by your patients. Understanding how your content, search capabilities, target community, and marketing team fit together is essential in creating a seamless patient experience from start to finish.
Step 2: Measure patient satisfaction
According to recent studies, nearly 91 percent of unhappy customers will never do business with you again, which means measuring your patient satisfaction is just as important as the effort to satisfy them. In addition, how can you improve your patient satisfaction if you do not measure it?
Take the first step to protect your online reputation and request your Online Reputation Assessment.
A poor patient experience results in angry patients and angry patients are bad for your gastroenterology practice. According to 1Financial Training Services, almost 96 percent of unhappy customers do not complain, they just never come back. This is why measuring your efforts is an important step.
Measuring patient satisfaction is not as easy as measuring your website traffic. However, some methods, when used correctly, can be of great help. For instance, patient surveys can be very insightful when used correctly. Text messaging is another effective channel to communicate with your patients. Measuring your patient service efforts shows you which parts of your strategy are working and which ones require attention.
Step 3: Leverage patient data
You are likely sitting on a ton of valuable patient information that is going underutilized. You must leverage your patients' data in order to deliver a personalized experience that will improve their satisfaction levels and leave a lasting impression. Observe your patients' behavior, acknowledge what content they are using to self-serve, and gain insight into what they are searching for but are not finding.
Step 4: Identify opportunities for building patient loyalty
The patient experience does not stop at your patient community or portal. You must close the loop by making sure the opportunities are identified and acted upon by your team at every step of the patient journey. These opportunities can be as simple as identifying visitors when they revisit your website and welcoming them by the first name, or recommending relevant information that would contribute to improving your potential or existing patients' experience. You can even consider offering a chatbot service to address your visitors' problems or answer their questions.
Step 5: Keep evolving and improving
In order to improve patient satisfaction, you should not allow your patient attraction and retention strategies to go stale. They must constantly evolve to meet your gastroenterology practice's growing demands, the ever-changing healthcare landscape and constant innovation of your competitors.

Wrapping Up
It is important to keep patient satisfaction high in order for your gastroenterology practice to grow. The more effort and time you invest in creating the best patient experience possible, the higher your chances are of creating loyal patient-doctor relationships.
Gastroenterology practitioners who embrace a culture of patient satisfaction enjoy significant growth in revenue as well as practice size. If you have any questions or need any help in improving your patient satisfaction level, please feel free to call Practice Builders and receive a complete assessment of your gastroenterology marketing strategy. Our team of experts will offer you actionable tips to improve patient satisfaction, attract new patients and grow revenue.