Online reviews are worth their weight in gold, and a mix of positive and negative reviews helps improve your patients' trust in your staff and service. Indeed, recent stats indicate that the presence of negative reviews can improve conversion rates by 67 percent. This is because if the reviews are entirely positive, most people think they are fake. In addition to increasing a patient's trust in your practice, negative reviews can give him or her a real picture about the success and credibility of your service. In addition, patients who read negative reviews convert better because the fact that they are paying close attention means they are likely to visit your practice.
To begin with, negative reviews do not mean your brand is not good enough. A lot of healthcare marketers deal with negative reviews at some point. Most of the time, negative reviews are a result of mismatched expectations and communication gaps. Therefore, if you happen to get a scathing review of your service, it does not mean your staff or service are bad. In fact, when a medical practice decides to publicly display their negative reviews, it proves it has nothing to hide. Displaying the not-so-good reviews shows that though some patients were not very happy with your service, the majority of patients are satisfied with the way your staff treated them.
While no healthcare marketer wants to get negative online reviews, they are bound to happen. The trick is to mitigate the damage caused by negative reviews by interacting with your patients and reassuring them that you are addressing the pain areas. One of the most effective ways to reverse the damage caused by a bad review is to respond to the reviewer positively. A professional and timely response can mitigate the potential impact of a negative comment and create growth opportunities for your brand.
There are two ways of mitigating the harmful impacts of negative reviews: deleting negative reviews and burying them.
Removing Negative Comments Permanently
Removing a negative review permanently disassociates it from your brand name and ensures searchers never see it again. While this technique is effective, it is difficult to implement.
In some cases, your practice website or social media pages may return a negative result. You can try to handle the situation by responding to the negative comment professionally and politely. If the condition is severe, you can consider removing your social media profile altogether and create a new one.
Often, a negative comment will happen on a web page not owned by your practice. For instance, an individual blogger might share a post about a bad experience with your brand, or a patient may share his or her dissatisfaction with your service or staff. If you do not own or control the web page, removing negative posts from SERPs is much more difficult and may require professional help.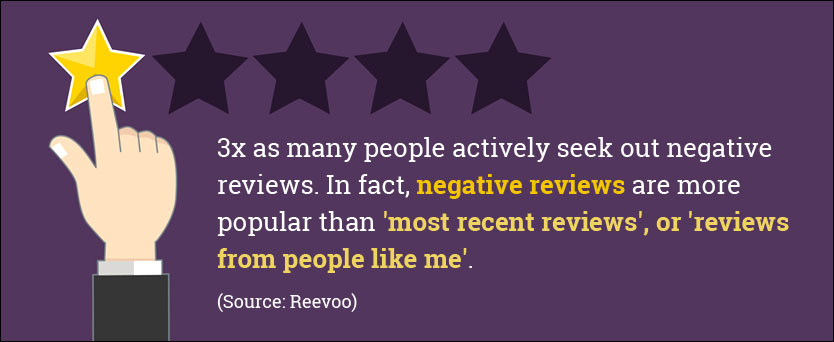 Burying Negative Comments
The next-best option for minimizing the damage caused by harmful online reviews is with search engine suppression, also known as reverse SEO. Burying a negative comment deep in the search engine results will reduce its visibility. With this strategy, instead of trying to remove the negative comment, you simply create more positive reviews in order to bury the negative comment in the search engine results. In most cases, suppression via reverse SEO also works to strengthen your online brand image and promotes your brand in a positive light.
If the sole aim is to push negative reviews down on SERPs, you must keep an active online presence. Posting great content online will help influence search engine rankings. Fresh and relevant content is a fantastic way to attract good-quality backlinks, which will help improve your website's authority. You can also start contributing to online forums, blogs and communities within your industry or market. Identify the most influential online communities, create your profile and start contributing to relevant discussions. The positive content frequently posted online will mitigate the harmful effects of negative reviews.
Most Internet searchers only click the first few items in search results. By creating SEO-driven content, your website rises to the top of the search ranks, while other web pages move down. If you are able to push a negative comment to the third or fourth page of search results, it is highly likely that browsers will not even see it.
How To Respond To Negative Reviews?
You are passionate about your practice and care about your patients, so negative reviews are going to hurt. However, overthinking will make the situation worse. So, take a step back and remind yourself that negative reviews do not make you a bad doctor. Instead, negative reviews are an inevitable part of running a practice. Keep these tips in mind when handling negative reviews:
Take the first step to protect your online reputation and request your Online Reputation Assessment.
Do Not Delete Negative Reviews: Maybe you are afraid of bringing the issue any undeserved attention. Or maybe you feel the grievance is not worth addressing. The truth is, negative reviews are opportunities in disguise. They are your chance to engage with patients in meaningful ways, get valuable feedback to help your practice grow and show your patients that you are willing to accept and fix your mistakes.
Be Professional In Your Response: Do not be defensive when responding to a patient grievance. Even an attempt to justify the situation may make your practice look unreliable. A proper response should include an apology for the patient's experience. Regardless of your version of the actual situation, the patient had an unfortunate experience, and an apology may soothe upset feelings. You can also add a positive statement about your practice in order to mitigate the negative comments made by the reviewer. Finally, thank the patient for his or her feedback and ask to connect with them offline.
Respond Quickly: Do not let damaging thoughts linger. A quick initial response is the first step to addressing customer grievances. Your prompt reply will show the complainant that you are paying attention and that patient issues are a priority. You must regularly check review sites you are listed on and monitor your social media feeds. You can set up online alerts at mentions of your practice.
Apologize, Even If You Are Not Wrong: While being right feels great, being forgiving is better for the reputation of your medical practice. Irrespective of what went wrong and why, always apologize to your dissatisfied patient. Your first message when responding to negative reviews should be that you feel sorry your patient had an unpleasant experience, and you would like to address the issue and compensate for the inconvenience. Be generous. Offering a discounted service can not only turn an upset patient into a satisfied one but can also attract more patients who will be impressed by your generosity and compassion.
Encourage Positive Reviews: The more online reviews you have, the less impact a negative review will have on your overall satisfaction score. For instance, if you have only five Yelp reviews, then one negative review can drop your satisfaction score by 20 percent. However, if you have 20 positive reviews, then a negative review will only bring your average score down by 5 percent. Also, most of your happy patients will not bother leaving online reviews unless you ask or remind them to do so. On the other hand, unhappy patients will be posting their unpleasant experience online as soon as they walk out the door. So, do not leave any stone unturned to convert your happy patients into brand ambassadors.
Do Not Take Negative Comments Personally: Physicians tend to take all criticism personally, which makes discouraging feedback all the harder to hear. It may be tough to regard criticism as an inevitable part of the job, but it is what it is. For sure, patients do not expect you to be 100 percent perfect, and the same patients will find an 89 percent positive rating more authentic than a 100 percent rating. While it is critical to manage your patients' expectations, you must also manage your expectations for yourself. You have to understand that you may not be the right fit for every patient and that sometimes it is an intelligent decision to let a patient go.
Learn From The Experience: Despite the sting, every negative review offers a learning opportunity. If a patient is struggling to find kind words for how he or she was treated, your staff may not be following the right protocol. Through negative feedback, patients can point out things that you may have overlooked, such as parking problems, vague billing practices, long wait times and many more. Even if the patient's problems seem silly to you, try to fix the issue. It may help change the patient's perception of your practice.
Follow HIPAA Guidelines: One of the biggest reasons to move the conversation offline with the reviewer is to avoid disclosing a patient's personal information publicly. Never disclose any of the patient's personal information, even if the patient initiates specific details in their review. It may become challenging to discuss a complaint while remaining vague. Explain your limitations in your response and ask the reviewer to discuss the problem one-on-one, where you do not run the risk of revealing their personal information.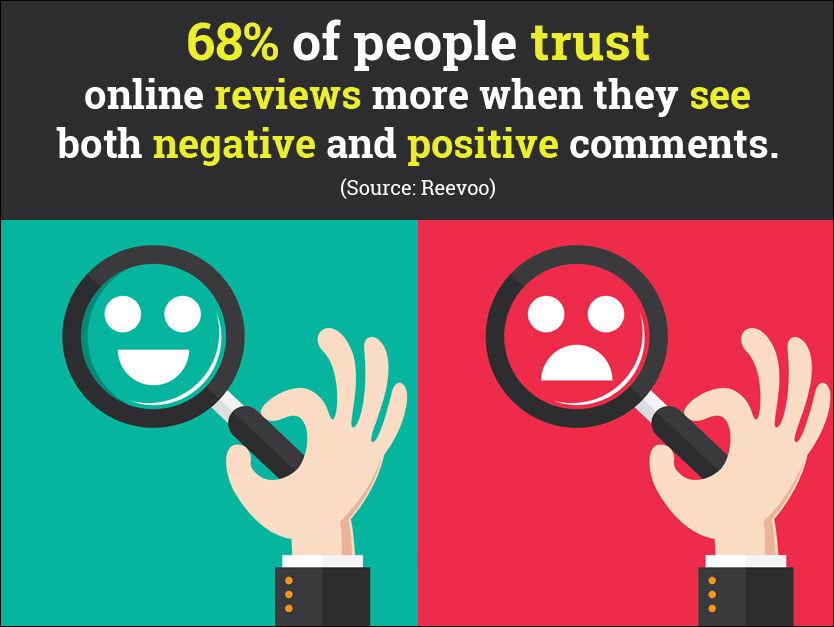 Final Thoughts
Negative reviews are difficult to handle. An unhappy patient leaving scathing reviews for your practice is like a swift kick to your online reputation. Online reviews tend to keep displaying in search results for years to come and can make patients turn their back to you. However, negative reviews can be used to your advantage, as long as they are surrounded by a handful of positive reviews. The trick is to interact with your patients and assure them you are addressing the problem. One of the most effective ways to reverse the ill effects of a negative review is to respond to the reviewer in a positive manner. A positive response to a negative review can reduce its impact and create growth opportunities.
In addition, be sure to inform your employees of the reviews you have received, both positive and negative. Negative reviews are an indicator that there are systems and processes within your practice that you need to improve. Formulate a plan to respond to reviewers quickly and professionally, and make sure their concerns have been adequately addressed. There is a possibility that some of your reviews are fake. If the negative review is fake or you doubt its authenticity, contact the third-party review site and ask them to review it and/or remove it.
Knowing how to respond to negative reviews is the key to patient-practice relationships and continued growth. Negative reviews are not the worst thing in the world and, when handled correctly, they can be turned into opportunities to satisfy your patients better and grow your practice.
Your practice's online reputation is crucial, and negative reviews could affect it adversely. The best way to manage negative reviews is to hire reputation management consultants. An online reputation management company will monitor your online presence while implementing strategies to help you look your best. myPracticeReputation's management tools allow you to monitor online reviews so you can address negative reviews quickly in order to prevent escalations and regain your patients' confidence.