There is a reason why some healthcare practitioners are super-successful while others are just surviving despite being supremely talented. The reason is: The successful ones know how to stay a few notches ahead of the game. They have eyes and ears out on their competitors so that they are aware of what is going on around them, all the time, on every possible front. Of course, even the most successful practitioners slip up. But they are often incredible at knowing what their competitors are up to.
In order to run a successful medical practice, you need to think like a boss. You need to know how to use all your available resources to attract new patients, handle your competitors and stand out in the market. Your best available resource is staring you right in the face: your competitors' negative online reviews. Start using your competitors' online reviews, especially negative ones, to your brand's advantage. The best part: Your competitors will not even know what hit them!
Tracking your competitors' online reviews can be an extremely effective technique for acquiring new patients. You might be wondering how monitoring your competitors' negative reviews will  help you acquire new patients. Well, the answer is simpler than you think! This is because you are jumping in at the point of a bad patient experience and when they are probably looking for a new healthcare provider. That said, this strategy is more art than science, and it must be implemented carefully.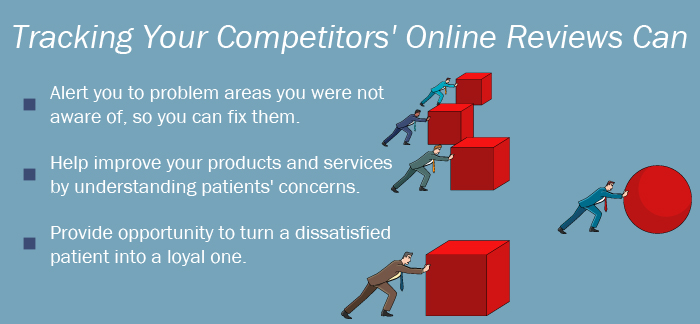 Responding directly to negative comments left for your competitors is not considered a healthy practice. It can even make you look like an opportunist, and it will annoy your competitors. So, how can you leverage your competitors' negative online reviews to generate potential leads for your practice? Let us look at this discussion from two different angles:
How and where to look for your competitors' negative reviews and
How to leverage those negative reviews to your brand's advantage without compromising your reputation.
Before we get to the most efficient ways to track your competitors' negative reviews, here is how you can use those negative reviews to acquire new patients:
You can learn from them and improve your own service and patient experience. If you start tracking your competitors' negative reviews, you can avoid having the same problems.
You can connect to the reviewers and try to engage with them directly.
You can respond to the negative review. However, save this option only for situations when your competitor has not been responding to the reviews.
You can build a strong online presence on social networking sites where your competitors are failing to effectively engage with their patients.
Tips to track your competitors' negative reviews
Now that you know how to leverage your competitors' negative reviews, here are the five most effective ways to find them.
Monitor your competitors' blogs
Combing through your competitors' blogs will often yield a number of comments, both negative and positive, or unanswered questions from patients. This will also give you some insight into how your competitors respond or react to negative reviews. You can take some clues and use them while responding to reviews of your practice posted by your patients. Do not respond to negative comments left on your competitors' blog. Instead, you can check the reviewer's name and send him or her a direct message.
Use Google Alerts to track brand mentions
Google Alerts is one of the most effective tools for monitoring online mentions. You can set up alerts for mentions of your competitors' brand name or product names. This will alert you to mentions – both positive and negative – across the Internet. You can add in the keyword you want to track, and you will get notifications when and where that word was mentioned. However, this tool will not offer any analysis of online reviews but will provide you with the data.
Take the first step to protect your online reputation and request your Online Reputation Assessment.
Track social media mentions
One of the most effective ways to stay on top of negative online mentions of your competitors is to utilize a social listening tool. Patients these days expect practices to respond to questions and feedback on social networking sites, and brands that respond appropriately reap significant benefits. According to research, customers who were contacted after leaving a negative review on a social networking site were 33 percent more likely to leave a positive review, and 18 percent were more likely to become a loyal customer. So, if your competitor is not responding to patient complaints on social networking sites, you can use this to your brand's advantage. While you may find online tools that would do half the job, following your competitors personally can give you a different perspective.
Closely monitor third-party review sites
According to BrightLocal, when customers are looking for reviews of a business, they check either a search engine or a review site. If your competitors are not responding to patient reviews left on a third-party review site like HealthGrades or Yelp, they are losing the opportunity to retain patients and maintain a strong online reputation for their practice. Using an online tool, you can quickly monitor all the popular third-party review sites for mentions of your competitors' brand names. While you will not be able to respond to those reviews, you will still be able to use this intelligence in other strategic ways.
Follow your competitors on social media
By following your competitors on social networking sites, you can identify any failings in your own approach and highlight any key areas that need to be fixed. By forming a clear picture of your competitors and their patient engagement strategies, it will become easier to work on your healthcare marketing strategy. It is important to know what your competitors are doing, learn from their failures and understand how to outsmart them.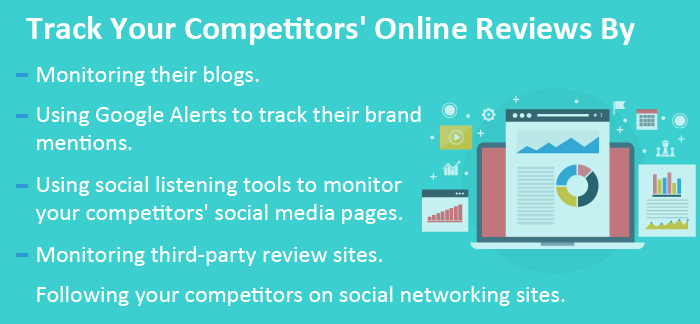 A Final Thought
Whether you are an established practice or just setting up business, there is a lot to be learned from reviews – both yours and those of your competitors. Your patients have more choices than ever before, and they are looking for a better service experience. By posting reviews of your competitors, they are trying to tell you exactly what that service experience looks like. Do not waste the opportunity to be the obvious choice in your area. Start listening and responding to the needs and demands of your potential patients.
By staying on top of your competitors' negative reviews, you can catch issues plaguing their patients before it is too late for you. You will be able to understand the most pressing issues with products, staff attitude and services in order to understand what is important for your potential patients.
If there is anything you can learn from your competitors' negative reviews, it is how they manage, or fail to manage, their patients' expectations. Practices that engage in proactive online review management outperform practices in key metrics like patient loyalty and satisfaction.